Balsom Master Class
Marian College Hosts Famed English Trumpet Soloist
Indianapolis, October 16, 2008 – The Music Building at Marian College was the site of an informal master class by English trumpet soloist Alison Balsom (Web Site) on Thursday, October 16, 2008.

Four performers played portions of pieces ranging from the Hindemith Trumpet Sonata to etudes from former Cincinnati Symphony Principal Trumpeter Phil Collins' much acclaimed Trumpetudes (Web Site).

| | |
| --- | --- |
| | |
| | Alison Balsom engages the audience during her master class at Marian College in Indianapolis on October 16, 2008. |
Performers ranged in experience from a recent graduate of Indiana University, to an elementary school-aged novice. Attendees were largely high school aged performers, with a smattering of local professional trumpeters including Larry Powell and Alan Miller.

Balsom listened to the four trumpeters, offering comments and suggestions that resulted in immediate improvements for each performer. Most notable were her comments about the need for performers to avoid being overly cautious, "The audience shouldn't worry about whether or not you're going to perform well." She urged performers to be bold and be prepared and always strive to make your performance interesting for the audience.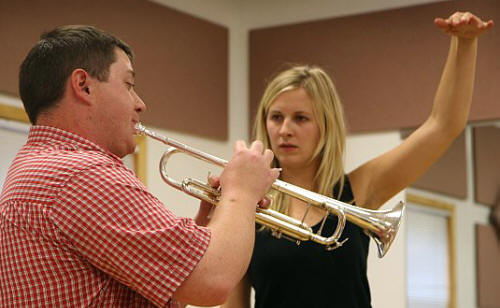 Alison Balsom works with Nathaniel Patty, emphasizing the importance of thinking "down" when moving up in range, and thinking "up" when descending a scale.

Balsom recounted lessons she's learned regarding breathing, including an anecdote from her time at famed Paris Conservatory. The trumpet studio would meet for a warm-up, lasting up to four hours. Alison learned quickly that utilizing the right breathing technique during those lengthy warm-ups could help her conquer a long day of practice and performance. She recounted a comment from her instructor that suggested if the correct breathing mechanics are deployed effectively, fatigue becomes a non-issue.

Balsom offered a method to help reduce the amount of force applied to playing the trumpet. Through attempting to get a good tone from the instrument while supporting it with the thumbs, the performer can begin adjusting to a less forceful interface with the instrument.

The importance of preparation was also stressed by Balsom. She briefly discussed the preparation she's used to ready herself for performances and reflected that it's only after the performance of a piece is perfected, does an artist truly start to learn to interpret the piece with their own voice.
Master class attendees join Balsom in breathing exercises at the event at Marian College in Indianapolis.

A Professor of trumpet at the Guildhall School, Balsom is an international soloist, EMI recording artist and recipient of many awards including the 2006 Classical Brit award for Best Young British Performer. She was visiting Indianapolis to undertake two performances with the Indianapolis Symphonic Orchestra.
Alison Balsom listens to a performer at Marian College.

More Information
More images from the Balsom Master Class
- Scooter Pirtle (email)