David Welch Update
Welch continues battle against brain cancer
David Welch is a veteran mellophonist who participated with the Garfield Cadets in the mid-1980s. Many reader of middlehornleader.com know David from his amazing journal he kept during his rookie season with Garfield.
David was diagnosed with a lemon-sized brain tumor at the age of 38 in December 2004. He underwent surgery and a battery of treatments to control the size of the tumor and to cope with the symptoms associated with the mass.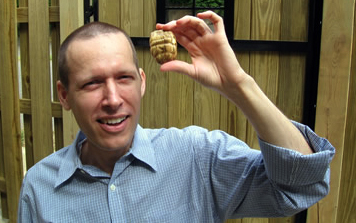 David Welch with a three dimensional model of his tumor (prepared by David Larson).
David's battle has been chronicled at his web site (38lemon.com).
One December 19, 2007, David received some unpleasant news about his tumor. An MRI revealed the tumor had begun to grow again at an astonishingly quick rate.
A second surgery occurred on December 20th and David continues treatment with a very aggressive course of chemotherapy and radiation treatments.
Please join David's fellow Cadet alumni in praying for his continued strength and success in his current battle against cancer.