Hammond Mouthpieces
Hammond Design

Mello Mouthpieces

Rating:
Background
Karl Hammond mouthpieces have made a swift and thorough ascension into the ranks of drum and bugle corps horn lines in North America. First appearing in the Canton Bluecoats' horn line in 2006, no less than a half-dozen corps opted to utilize custom Karl Hammond mouthpieces for their field brass during the 2007 competition season.
Hammond specializes in custom mouthpieces for trumpets and trombones, but they produce mouthpieces for trumpet, mellophone, trombone, euphonium, and tuba. Hammond custom mouthpieces created for mellophones are adding another alluring option for performers who are now coping with a dizzying array of mouthpiece options.
Santa Clara utilized Hammond mouthpieces for each of its brasswind sections in 2007.
What makes these mouthpieces so alluring to drum and bugle corps?
Karl Hammond studied trumpet and was introduced to custom mouthpiece manufacturing as an intern for Terry Warburton in 1991, where under the tutelage of Terry and Ken Titmus Karl was involved with the development of innovations that became a trademark of the Florida-based mouthpiece manufacturer.
Karl parlayed his experiences at Warburton into a position with Schilke Music Products, earning the responsibility for developing stricter quality controls and custom mouthpiece development.
In 2006 Karl formed his own company to create mouthpieces for brasswinds. He swiftly developed a loyal and impressive listing of commercial and orchestral performers that includes John Hagstrom, trumpeter for the Chicago Symphony Orchestra.
Some experimentation with the Bluecoats in 2006 led to a full line of mouthpieces being prepared for the Santa Clara Vanguard. This unprecedented move of having an entire DCI brass line on the same manufacturer's mouthpiece is as impressive as the accolades Hammond has received from his professional clients.
Opinions
Two models of Hammond mellophone mouthpieces were evaluated for the Blue Stars Drum and Bugle Corps. The models were the 5MP and 6MP (standard weight) mellophone mouthpieces.

According to the Hammond web site the 5MP utilizes a cup diameter is equivalent to a Bach 3C mouthpiece and the 6MP equaling a Bach 5C. The mouthpieces utilize a deep flugelhorn-type cup and a somewhat larger than standard bore (throat). Hammond also manufactures a heavyweight version of these mouthpieces that were not a part of this review.

The quality of construction for these mouthpieces is very good. A sliver finish is standard for the one-piece mellophone mouthpieces. Hammond's success with very discriminating clients in the professional music realm suggests that mouthpieces can be replicated very consistently and accurately.

Play tests of both the 5MP and 6MP mouthpieces on a Yamaha 204M F mellophone revealed that despite the relatively small diameter of the 6MP, the bottom register (below the staff) speaks easily and open. The upper register is readily available up to and beyond a high E-flat above high C (and beyond).

The open bore of the mouthpiece helps to enable articulations with little resistance and enables the performer to play at volume extremes with very good clarity and little distortion. It's this slightly larger-than-standard bore that offers the performer much more security and integrates well into the top corps' strong emphasis on large air volumes being moved through the instrument. The Yamaha 204M's lead pipe swallows the backbore effectively, but will require the tuning slide to be pulled nearly 3/4" to accommodate the shorter mouthpiece.

This is a standard mouthpiece and offers great feedback to the performer that is sometimes absent from heavier weight mouthpieces.

For comparison purposes, a play test of several short excerpts was made with a Monette B2 Flumpet Mouthpiece and the Hammond 6MP to attempt to distinguish the difference in tone characteristics of the two mouthpieces. It's significant to note that despite the much smaller diameter, the 6MP offers a very similar tone quality to the Monette B2 Flumpet (which is a very deep cup mouthpiece with a diameter equivalent to a Bach 1-1/4C and with a huge bore).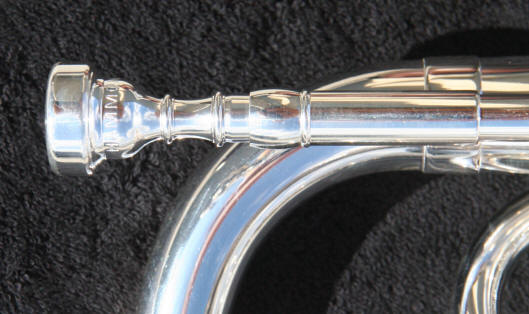 The Hammond MP5 Mouthpiece fits great into the Yamaha 204M, but the tuning slide will need to be pulled to accommodate the short backbore of the Hammond.

With the renaissance in mid-voice mouthpiece technology and the increasing supply of mid-voice specific mouthpieces that have become readily available in the last three years such as the IYM and the Curry TF Series, the Hammond has efficiently and nearly instantly set the standard in modern mid-voice mouthpiece design. It is no accident these mouthpieces are being utilized by so many top drum and bugle corps brass lines.

Recordings
Below are some excerpts performed on a Yamaha 204M Mellophone. For comparison purposes, each excerpt is recorded with the Hammond 6MP (standard weight) and a Monette B2 Flumpet Mouthpiece:
Flow Study, Hammond 6MP Mouthpiece (mp3)
Exercise 1, Hammond 6MP Mouthpiece (mp3)
Exercise 1, Monette B2 Flumpet Mouthpiece (mp3)

Exercise 2, Hammond 6MP Mouthpiece (mp3)
Exercise 2, Monette B2 Flumpet Mouthpiece (mp3)
Exercise 3, Hammond 6MP Mouthpiece (mp3)
Exercise 3, Monette B2 Flumpet Mouthpiece (mp3)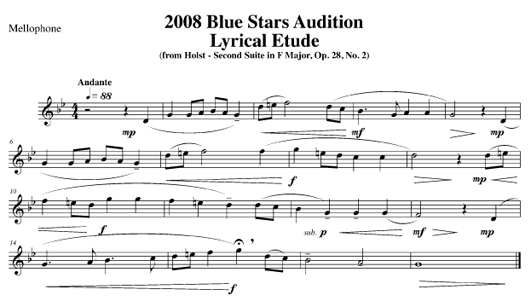 Exercise 4, Hammond 6MP Mouthpiece (mp3)
Exercise 4, Monette B2 Flumpet Mouthpiece (mp3)
Articulation Exercise, Hammond 6MP Mouthpiece (mp3)
Articulation Exercise, Monette B2 Flumpet Mouthpiece (mp3)
Excerpt, Hammond 6MP Mouthpiece (mp3)
Where to Buy
Karl Hammond Mellophone Mouthpieces can only be purchased directly from the manufacturer (Web Site). Contact them at (877) 881-8886, or sales@karlhammonddesign.com.