Originally published May 1993.
Tony Scodwell was born and raised in Beloit, Wisconsin, graduating from high school in 1961. His education continued at the prestigious Berklee School of Music in Boston on a full scholarship provided by the international music magazine Down Beat Leaving school in the fall of 1962 to join the Stan Kenton Orchestra and returning upon the completion of that year, he once again felt the urge to tour and rejoined the Kenton Orchestra the following April. From that point on, Tony Scodwell has been a working, professional musician.
| | |
| --- | --- |
| | |
| Tony Scodwell soloing with the Stan Kenton Orchestra in 1963. | |
Following his stint as lead mellophonium and jazz soloist with Kenton, he went on a European tour with the Sam Donahue led Tommy Dorsey Orchestra featuring, at that time, Frank Sinatra, Jr. Then a short period with the Jimmy Dorsey Band before a move west to play first trumpet in Harry James' Las Vegas based band. Tony stayed with James a year and a half before rejoining the Tommy Dorsey Orchestra, seeing the end of that particular era when bookings failed to materialize and the group was forced to disband. Rejoining Harry James briefly until an opportunity to live and work in Germany presented itself in the form of first trumpet with the Kurt Edelhagen-Cologne television/radio band.
At that point it's 1966 and Buddy Rich has decided to form his new big band. Tony was hired to lead the brass section and left for Las Vegas once again. As exciting as the band was, bookings were slow to appear and Tony was offered a solid position with the house orchestra at Harrah's Club in Reno, Nevada-which he accepted. But only one year in "show business" had passed and he jumped at the chance to rejoin once again, Harry James, to head up the trumpet section of his new, swinging band. Two more years of touring with James out of Las Vegas and it was time to move once again. Frank Sinatra, Jr. had formed his new little band, and Tony left to travel the world with him.
In 1970, a long term booking became available (Tony and Mary Walter were married). Both agreed to continue touring with Sinatra, Jr. until the endless plane-trips had taken their toll. As it happened, an opening in a Las Vegas band occurred, at the same time the road ceased being enjoyable. A permanent move to the desert was made.
The next six years were spent in Las Vegas with the John Haig Relief Orchestra, (working six different hotels a week), then a short trip to Munich, Germany to help out close friend Max Gregor until he could find a permanent first trumpet player. Then it was back to the US for two years with the fine orchestra at Caesar's Palace and the Frontier Hotel in the capacity as first trumpet and orchestra contractor.
The years Tony has been in Las Vegas has seen him appearing with the elite of the entertainment world-performers such as Frank Sinatra, Diana Ross, Tony Bennett, Elvis Presley, Sammy Davis, Ann-Margaret, Tom Jones, Roy Clark, Anthony Newley and many more.
Tony Scodwell continues to live in Las Vegas as a freelance trumpet player and photographer whose photographs can be seen in publications throughout the world.
EDITOR'S NOTE: The biographical sketch of Tony Scodwell presented above was reprinted from a "Clinic and Concert Information" pamphlet produced by DEG Music Products, Inc., and used when Mr. Scodwell was a clinician and instrument designer for DEG.
Scooter Pirtle: Could you review the type of instruments that were auditioned for the Kenton orchestra before the mellophonium was chosen?
Tony Scodwell: They tried flugelhoms, but that wasn't a "broad" enough sound and it wasn't what Stan had in mind. How they arrived at the mellophonium I truly don't know. Gene Roland was involved in it somehow, as was Johnny Richards. Conn made them aware of the fact that they had this instrument. It was the sound that Kenton had in his mind, and I believe it was the right sound for the band.
When I had joined tile band, the previous sections had been comprised of trumpet and French horn players. I never thought they ever "hooked up" with the horn the way they should have. At the time I got on the band I was involved with Getzen. Getzen had a real nice F Alto marching trumpet. Even though we played horns in F, I think the mellophonium plays much better in E-flat. In F they play marginally OK, but in E-flat they played pretty fair. So, for whatever reason, they were in F.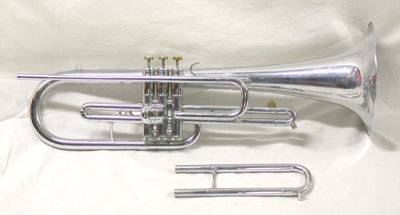 This is the Getzen F Alto marching trumpet that was available through the 1960s. The Kenton Orchestra tested these instruments in several performances, but opted for the Conn mellophoniums.
There were four Conn mellophoniums that came through the various sections that were left, and that's what the band had on loan from Conn. I think I played Ray's horn. That was the horn I inherited—not that it was any better than the others. In fact, at one time we all switched horns and found out that they were all equally mediocre.
SP: The same horns were used from 1960 through 1963?
TS: Yes, but there was one Reynold's mellophonium on the bus that Reynold's had built when their factory was still in Elkhart, Indiana. The horn was beautifully made, absolutely flawless. The Conns were built OK, but not great. On a scale of 100 you'd give them about a 70. You'd give Reynolds about a 95 because it was gorgeous. However, the Reynolds played like "dog meat;" just awful. I never spent much time on it. We all "tooted" on it and said "Yeah, this sucks," then put it away.
At this point we were thinking "There's got to be something better." I went to my friends at Getzen and got four of these F alto marching horns. It had an eight inch trombone-type bell. They played quite well, but they didn't have the sound that Stan wanted. We actually played them on a couple of performances in Chicago during a gig in order to evaluate them. Stan decided he didn't like the sound of them as well as the mellophonium. He was wide open for change, but we didn't find anything we liked better. So at that point I started looking around for better mouthpieces.
Basically, we were all trumpet players at that time (until Dave Horton joined the section--he was a French horn player). I had been playing Schilke trumpets and I knew "Ren" pretty well and I went in to see him. He suggested a "Farkas" cup with our trumpet rims and a shaved down flugel backbore. It's a funny mouthpiece, but it works really well.
SP: That's kind of ironic, because that's the basic configuration corps are using today. I guess you guys were among the first to actually adopt this type of mouthpiece to a mellophonium.
TS: I guarantee that we were the first. It was because knew Schilke that we got them. Up to that point, everyone was content to "muddle along" with what we had. We had to be able to play this instrument in tune and had to make a "horn" quality out of it. This mouthpiece really helped us to do It. That was as good as it got with that section. This section was really in tune. We had a really good time playing the mellophoniums.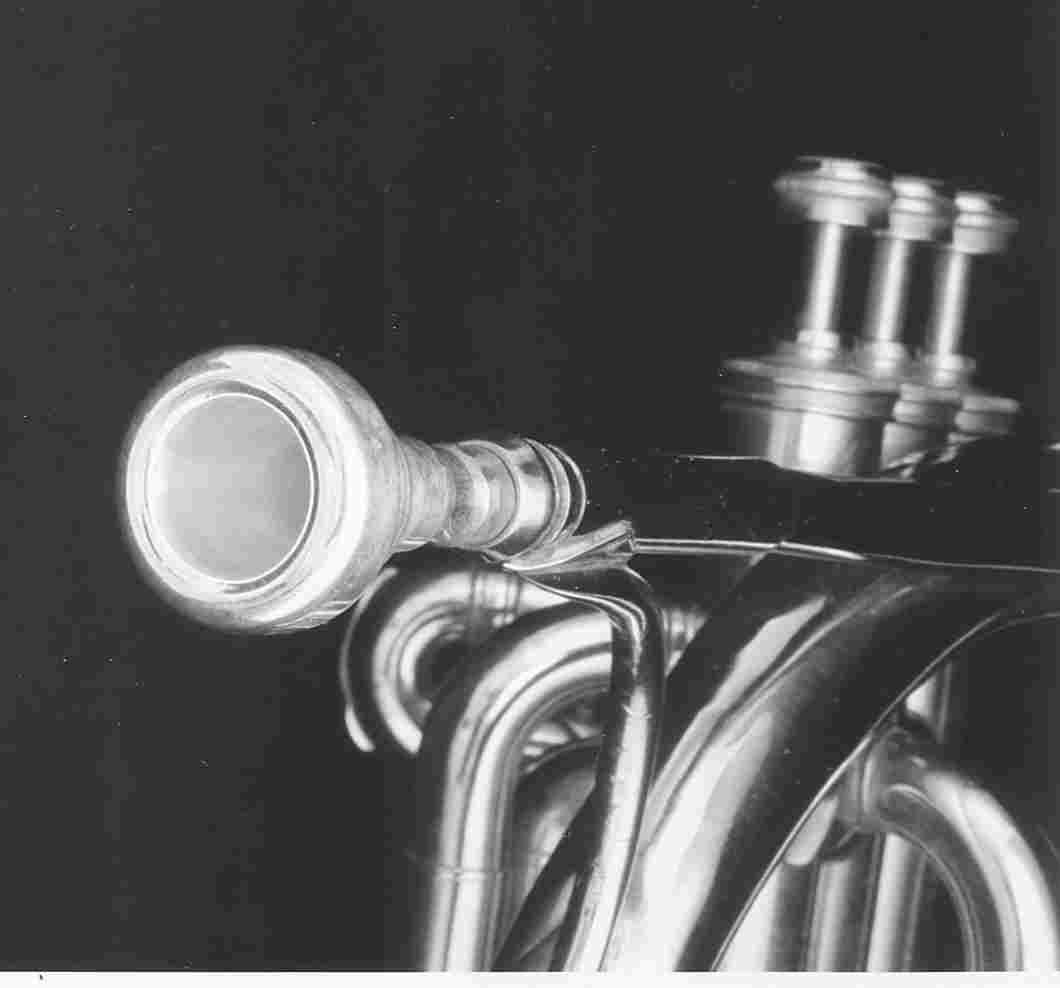 Tony Scodwell obtained custom-built mouthpieces from Renold Schilke that featured trumpet rims, deep cups, and flugelhorn shanks. Similar versions of this mouthpiece are still utilized today.
SP: What was the basic "make up of the section?
TS: Basically, It was the French horn-type approach where you had four horns in unison or voiced, or there were two up and two down. That was the way Johnny Richards wrote for them. Lennie Niehaus voiced things four ways most of the time. Stan would voice things with a lot of unisons like Johnny, but he would occasionally write four way harmony as well.
SP: You had a jazz chair, too?
TS: Well, the jazz chair was moved around. I inherited the solo In Peanut Vendor because when the mellophonium band was on the road, that was a mellophonium solo. It was always a trombone solo before. Ray Starling's recording of Misty, that was a mellophonium feature that I played after he left. Bill Holman also wrote a sequel to Maleguena that was a mellophonium feature that came to the band when I was on It. It wasn't written for me, but it was a mellophonium solo. It was sort of an Introduction statement that the mellophonium played and that was it. There were no jazz solos to it.
SP: What was the name of that piece?
TS: Grenada. I don't think it ever got recorded. It wasn't a very good chart, really. Of the two, Malaguena was the better chart.
When we were doing the summer band clinics during the last year of the mellophonium band before we went to England, Johnny Richards was on every one of them for six weeks in a row. He brought out the Adventures In Time charts. We started playing that on the road and there were a couple of nice mellophonium solos in there I Inherited. It wasn't that I really wanted to be the jazz player; I was just the only one. I put together enough "licks" to make it presentable most of the time. I never really prided myself on being a jazz player. However, I will go to the mat with anybody defending my section.
Ruebens Blues was an old Gene Roland piece that was awful. That was also a mellophonium feature.
| | |
| --- | --- |
| | |
| Tony Scodwell soloing at a concert at New York's Madison Square Garden in 1963. Photograph by Roy Des Ruisseaux. | |
SP: Gene had some unique arrangements with the horns, didn't he?
TS: Gene was crazy.
SP: Did you get to see him much when you were with the band?
TS: He was never with us. At that time he was back In New York. Johnny Richards was the only one that would come around. Lennie Niehaus would also come around when he wrote some new dance music. Johnny, Lennie, and Stan were the primary writers during that time along with Dee Barton.
| | |
| --- | --- |
| | |
| Tony Scodwell (center) flanked by his father (left) and Stan Kenton (right) on tour in 1963. Photo submitted by Tony Scodwell. | |
SP: I read in several books that the mellophoniums weren't given seats on the bus during their first tour. In fact, they had to sit on the horn cases in the aisles. Is this true?
TS: That's bull. They sat on the mellophonium cases to play poker because the cases were shaped like a saddle. The mellophonium players had seats just like everyone else.
SP: You may have had seats, but that doesn't mean everyone liked having the mellophoniums around. The trombone players really didn't like you guys, did they?
TS: The brass section, in general, didn't like the mellophoniums. The saxophone players never said a word about us. Gabe and his section were perfect gentlemen and compatible.
For whatever reason, we just bugged the hell out of certain trumpet players and a couple of guys in the trombone section. I have my doubts as to whether or not they ever actually listened to what was going on. Because if they had listened to what was going on, they would have heard that it was being played "right" and it was a neat voice for the band. For whatever reason, there was a tremendous amount of animosity for the mellophoniums. We, as a section, didn't feel it as much. Frankly, we were taking care of business and, at the time, sort of laughed it off.
All those stories are basically true, but there are people like Jiggs Whigham and Ron Keller who have exaggerated the stories over the years. I still get upset when I hear about that kind of crap.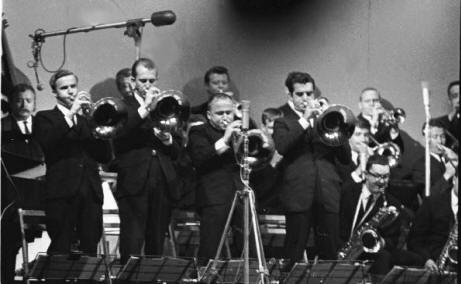 The Kenton Mellophonium section in a rare concert photograph taken by Roy Des Ruisseaux at the Newport Jazz Festival in July 1963. Mellophonium personnel left to right: David Horton, Bob Crull, Tony Scodwell, Bob Faust.
SP: It's pretty prevalent in the published material on the mellophonium band.
TS: Well, you won't hear it from a guy like Keith LaMotte, who played in the trumpet section and the mellophonium section. You'll never hear those stories from the guys who actually played the instrument because they know how hard that bastard was to play.
The trombone players were mostly pretty cool. The first trombone player was a kid nicknamed Jiggs Whigham. Jiggs was a fine trombone player, but he was "semi-full of it." He was always expounding on something. The mellophoniums were convenient for him at the time. Even a couple of years ago when I was in England and was there to solo with a band called The Shades of Kenton. This was a band put together by a baritone saxophone player that is a BBC musician In Manchester that just Idolizes Kenton. It was a neat event and we drew a thousand people. He had all the charts that I used to play and it was terrific.
The Conn 16E Mellophonium in F utilized by the Kenton Orchestra.
The instrument featured an 11-1/8" bell and a large .501" cylindrical bore.
I went down to Nottingham with him to do a BBC Interview and the guy who was doing the Interview said "Yeah, we had Jiggs Whigham here last year and he was telling us 'this and that' about the mellophoniums." Jiggs used to be a friend and I actually lived in his house when I moved to Germany In the mid sixties.
I wrote Jiggs on the way back on the plane. I was so pissed off, I wrote him a Christmas card that basically said "I didn't enjoy your attempt at humor. It wasn't true and you're still 'full of It' to this day!" I've never heard from him since.
That's how much it means to me. I hate that kind of stuff. That's totally uncalled for. It ain't a big deal to me anymore, but I know how hard I worked at making that section sound right and I know how good it was. Damn it, I've got tapes to prove It I I'll lay the tapes on you and you can judge for yourself.
I think they're basing most of their derogatory comments on some of the mellophonium jazz solos. Some of the jazz things I played were fine, some of them weren't.
SP: These were the solos that you inherited from Ray Starling?
TS: Yeah. Ray was a "natural cat." He could play jazz on anything. He wasn't a very good mellophonium player. He wasn't a very good trumpet player. He was a very good "jazz player."
Mellophoniumist Ray Starling
SP: I an interview in Lee's Stan Kenton: Artistry in Rhythm, Kenton said that Starling was devoted to the mellophonium. Was that not the case?
TS: No, Ray was devoted to jazz. It didn't matter to him, he was a soloist with the band. He could pick up anything and play It. He wasn't living the life of a mellophonium player. He didn't give a shit about the mellophonium, he just happened to be a guy that could play and was featured on it. That was terrific.
I sat on the bus next to him. I mean, I knew him as well as anybody.
SP: Were there a lot of players that were in the section that never made it to a recording date? Like Dick Martinez, for instance?
TS: Dick started the '63 tour, but I don't think he made records. He started in April and went to June or July. Then Dave Horton came on and that was the only change that we did when I was there. Maybe there are bootleg recordings out there with Dick.
SP: Was that before Robert Crull was in the section?
TS: Bob was already in the section from the previous tour before I Joined.
SP: He took the place of...
TS: It's hard to say because a lot of the guys just did records. The previous touring section was Ray Starling, Keith LaMotte, Carl Saunders and Lou Gasca...I replaced Lou Gasca "technically" during the previous tour because Louie and Marv Stamm were allegedly caught smoking pot.
SP: Stan didn't like that too much, did he?
TS: Stan didn't tolerate that at all. Marvin allegedly begged himself back on and Louie said "screw it," and left. So that's when I got on the band, but Louie never recorded, as far as I know.
SP: Actually, he recorded on Adventures in Time.
TS: OK. Joe Burnett didn't make any tours that I know of. Bob Crull was on the previous tour. I stayed over and Dwight Carver was the only other until he screwed up and missed the recording date. He got fired. Dwight was kind of weird.
SP: He was with the section "off and on" throughout the mellophonium period.
TS: Yes, he was. He was there from the "get go." He was, even then, a "Senior Space Cadet."
SP: I guess that helps.
TS: I don't think so, at least not for me.
SP: Was it a problem having people constantly moving through the section?
TS: That's the way it is with a road band. I remind you, you're making $115.00 a week. When I started playing lead I made a whopping $130.00! Stan paid as much as he could and that was all. When I was in the section, the only change we had was Dick Martinez. Stan came to me after a couple of months out and said "What Is happening with the section?" I said, "Well, I really hate to do this, but Dick Isn't making it." Dick was cool, he was such a gentlemen. He said "I know I'm not making It, I was just thrilled to be on the band for three months." Then he bowed out. That's when we got Dave Horton, who was fantastic. Dave could really play. As a matter of fact, I think he's playing in Atlanta now.
SP: That's great!
TS: He's a good musician. Then the section was stable until the end.
SP: The section lasted until the end I of the 1963 England tour, didn't it?
TS: Yes, the English tour was it. We all sat around and had a pre-Christmas dinner in a hotel In London. It was all very sad. The sole reason the band was breaking up was because Stan was going through his divorce with Ann Richards and the judge said that If Stan left and went on the road again, he would lose custody of the two kids. Well, in hindsight, that would have been the best thing that could have happened. If you remember, Lance Kenton was the one that tried to kill someone by putting a rattlesnake in a mailbox. Of course, at the time of the judge's decision, the kid was only three or four years old.
SP: That was the real reason for the demise of the section?
TS: Yeah, absolutely. That caused the demise of the band. The band literally broke up in December '63 in England. That was it. That was the farewell shot. Stan was going back to LA and he was going to do records, hand around LA and not tour. Well, in '65 the band went back on tour again with the mellophonium book, but without mellophoniums.
SP: They used French horns?
TS: No! They just dropped the horn parts, and it sounded pretty empty. Stan just didn't have the dough. He never had any dough, be always put the money back into the band.
SP: That's what Robert Crull alluded to. He suggested the money was the main reason for the demise of the section. I do know that a lot of times after tour, the musicians didn't know when or if they were going on the road again until they got a call. However, this time you guys knew that this was "it."
| | |
| --- | --- |
| | |
| Tony Scodwell and Larry O'Brien in 1964 with the Tommy Dorsey Orchestra. Reprinted from jazzprofessionals.com. | |
TS: As far as we were concerned, that was it. That was the end of the Stan Kenton Band. Of course, it wasn't, but at the time we thought it was. If he was going to use the mellophoniums again, we would have gotten a call. He always called the previous tour guys to go back out. He did call me to go out on trumpet, but I had already been on the road with Harry James playing first trumpet so I didn't go. Stan recommended me for Harry James' band.
SP: That's not a bad reference!
TS: That was the kind of guy Stan was. He called my friend Sam Donahue from London when the band was breaking up and said "I got a kid on the band that wants to play trumpet so bad and if you got room In the Dorsey band, this kid wants to do it." That's how I got hired to do the Dorsey band with Sam.
SP: You still have one of the mellophoniums, don't you?
TS: I don't have one of the original mellophonium, I bought one out of a place In North Dakota that sells band instruments. It's not very good. As far as I know, when the band broke up in 1963, the original instruments went back to Conn. When I was on my way back to Boston after I returned from England, I purposely drove through Elkhart, Indiana to go to the Conn factory to get one of the horns. I called In advance, but when I got there they didn't seem to care much about it. They said they couldn't find the horn and this and that. The horns were pretty beat up, anyway. The bells were very soft.
| | |
| --- | --- |
| | |
| Tony Scodwell creating in his workshop in Las Vegas in the early 1990s. | |
I don't remember where it was, but I remember when we were on the road and in some ballroom. There was an ornate fence separating the dance floor and the seating area. On the comers of the fences, they had the round balls that were about 8 Inches in diameter. I was using one of these balls to roll out the dents in the bell. Stan walked up to me and he really started to "rain" on me big time. I said, "Heyl I'm taking the dents out, I'm not pissed off at this horn and putting dents in!" So then it was. OK and I fixed everybody else's mellophoniums. I make trumpets now.
SP: Is that where it started?
TS: Yeah.
SP: Did you guys ever want to "monkey" around with the horns by shortening some tube or changing a blowpipe?
TS: No. You know that's funny, too. We never wanted to screw around with the design of the horns. If I knew then what I know now, I would have taken the whole damn horn apart and reassembled It. I don't know if I could have made It play right or not. Even today, I keep looking at mine every now and then, but I don't have the desire to take it apart and fix it.
When I went to England for the Shades of Kenton performance a couple of years ago, they used a couple of Conns and a couple of Courtois mellophoniums. They had two really neat Courtois mellophoniums that I have never seen in this country. They played Impeccably In tune. I took my mouthpiece with me and played this guy's horn on the concert, and it was fabulous.
SP: Was it shaped anything like the Conn instruments?
TS: It looked Just like the Conn. It was a great instrument.
| | |
| --- | --- |
| | |
| Tony Scodwell has created a signature trumpet and flugelhorn that has gained wide acceptance among professional musicians. | |
Some of the marching horns made today are really good. I played one of Holton's mellophoniums. Its bell doesn't stick out as far as the Conn, but man does it play good. There are quite a few "bell front" marching Instruments that are quite good. What do you guys play in your corps?
SP: Funny you should ask. We've got seven members in our section and we use four different instrument types made by two manufacturers. Our leads use '87 model Dynasty 2-V two piston mellophone bugles and our lower section uses three valve Dynasty bugles, a Ziggy Kanstul three valve mellophone and alto bugle.
TS: I know Zig quite well; he makes the pistons for me.
SP: It's a small world.
More Information on Scodwell Trumpets & Flugelhorns
Chuck Levin's Washington Music Store, the Sole Distributor of Scodwell Signature Trumpets and Flugelhorns.