The Blue Devils audition prospective members in Indianapolis in November for their 2008 competition season. Click here to read more.

The King 1121

A long, long overdue review of that "other" mellophone. Is this horn worthy of the crown?

Precision Valve Alignments

Click here to learn about the PVA that might be an option for your rig.

Blessing or Curse?

Mark Taylor's review of the Blessing M-100.
Bianca Volke (1990-2007)
Bianca and fellow Colts guard member Erin Reichle were involved in a serious auto accident on December 1 that resulted in Bianca's death. Click here to learn more. Your contributions to help offset the tremendous medical costs associated with this tragedy are greatly appreciated.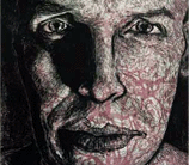 David Welch Update
David underwent a second brain surgery in his ongoing battle with cancer. Click here to learn more about his progress.
Blue Star Mellophones Click Here
The Middle Horn Leader, as a publication, was born in March of 1992. Initially, its purpose was to keep the mellophone section members of the Bluegrass Brass Senior Corps of Lexington, Kentucky informed of corps events. However, word of the publication devoted to mid-voice soon spread and issues of the newsletter were distributed throughout the U.S. and the United Kingdom. As in the beginning, the purpose of this publication is to celebrate the development and usage of mid-voice instrumentation (e.g., mellophones, mellophoniums, mellophone bugles, French horns, French horn bugles, flugelhorns, flugelhorn bugles, and those oft misunderstood alto bugles.
The Middle Horn Leader published fourteen issues between March 1992 and March 1995. Copies of the original series are still circulating and at least one issue has been republished annually since 2003. You can access select articles from these original issues here.