| | |
| --- | --- |
| | |
| | 2008 Star United Members in Indianapolis shortly after their dress rehearsal on August 23. Photo by Josh Talbott |
| | |
| --- | --- |
| | |
| | Star United drum major Becky Saddlemire stands atop a scarf-laden podium prior to the start of Star United's competitive program at Rochester. Photo by Amber Sears |
Rochester, New York, August 29, 2008 – Star United defended its championship title in Rochester on August 29th, claiming a third consecutive Drum Corps Associates (DCA) Mini Corps Championship.

The twenty-two person unit based in Indianapolis performed three pieces as part of their competition program at DCA's Individual & Ensemble event that served as the kickoff of the DCA Championship Weekend. Star United scored a 98.33, narrowly edging out Mass Brass, a competitive unit consisting of Boston Crusader alumni.

Star United's placement afforded them an invitation by DCA to perform at DCA Finals (in exhibition) following the performance of the Reading Buccaneers and preceding the announcement of caption awards and final placements for the DCA corps.

Star United's competitive program included the world premiere of a new work by Josh Talbott entitled Fly! The original featured percussion accompaniment composed by Drew Schnieders and featured mixed meters and features each section of the brass section individually and collectively throughout the piece, culminating in a frenzied homage to Don Ellis' Niner Two at the piece's conclusion.

Star United performs before approximately 2,000 spectators at the DCA Minicorps Championships in Rochester, New York. Photo by Amber Sears

Star United demonstrated its subtle side with Talbott's arrangement of Pie Jesu, from John Rutter's Requiem. The piece features solo work by Jeff Banyots (Tuba), Jeff Appel (baritone), and Brian Frederick (trumpet).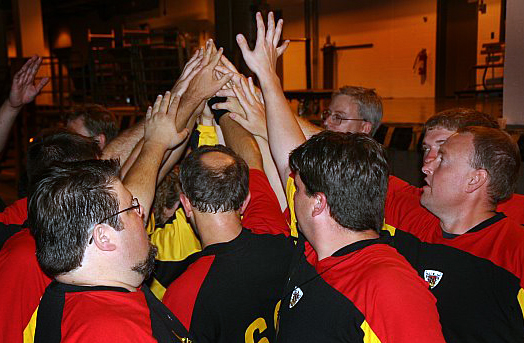 Star United members share a group moment in the loading dock following the announcement of scores. Photo by Scooter Pirtle

Ron Nelson's Rocky Point Holiday closed the competitive program. This arrangement was created by Jim Prime originally for the University of Massachusetts and is a faithful recreation for B-flat and F instrumentation of the arrangement Prime created for the Garfield Cadets that was featured in their 1982 and 1983 competitive programs.

| | | |
| --- | --- | --- |
| | | |
| | Becky receives the judges packet as Star United is awarded the championship by DCA's I&E Coordinator Dick Pronti. | |
Members of the corps departed Indianapolis on August 28th and rehearsed at Victor High School in Victor, New York. A run through was performed for members of the Victor High School marching band, followed by more rehearsal.

A full day of rehearsal at Victor High School on the 29th was followed up by a visit to a rehearsal of the San Francisco Renegades by several Star United members, offering Star United members a chance to reconnect with Renegade members and Star alumni Tiffany Carrico, Dave Leland, and the venerable Thu Powell.

Star United traveled to the Rochester Convention Center on Friday evening for a relaxed warm-up on East Main Street and a spirited performance that was well-received by approximately 2,000 spectators. Following the announcement of scores, Star United performed a victory concert in the loading dock of the convention center overlooking scenic South Avenue that concluded with the Kerchner arrangement of When You Wish Upon a Star.

Unlike previous years, Star United continued to rehearse through the weekend in order to prepare for the exhibition in front of the DCA finals audience on Sunday evening. A brief Saturday rehearsal and run through was followed by a half free day.
Star United prepares for a runthrough at Victor High School in Victor, New York. The school graciously allowed the corps to rehearse on the property.

A final rehearsal and sound check occurred on Sunday. The corps ventured to Timm and Linnea Knoerzer's residence for breakfast and rehearsal. Linnea is an alumi of Star of Indiana and Timm, a veteran of the Garfield Cadets opened their home to the corps for the second year in a row, allowing the corps time to improve their performance and enjoy additional free time.

| | |
| --- | --- |
| | |
| | Linnea Knoerzer, Star of Indiana alumni, at the stove preparing breakfast for Star United and guests. Timm and Linnea allowed the corps to invade their home, even rehearsing and performing in their formerly quiet neighborhood! |
A final warm-up occurred near Paetec Park, followed by an exhibition performance for approximately 12,000 attendees of DCA finals. Of particular note was Carl Ruocco's presence at the exhibition. Ruocco has been the staff coordinator for the Reading Buccaneers since 2005 and was an integral part of the Star of Indiana organization. His beaming smile on the sideline during the performance was much appreciated by the members of Star United, many who participated with the corps during his time with the organization. Of course, Ruocco's smile grew even bigger after Reading was announced as the winner of their fourth DCA Championship in the row minutes following Star's performance.

Star United consists of alumni from Star of Indiana, Brass Theater, Blast!, Blue Stars, Bluecoats, Black Knights, Bluegrass Brass, Golden Valiants, Imperial Guard, The Kilties, Limited Edition, Madison Scouts, Northmen, Pride of Cincinnati, The Commandant's Own Drum and Bugle Corps, and the Santa Clara Vanguard.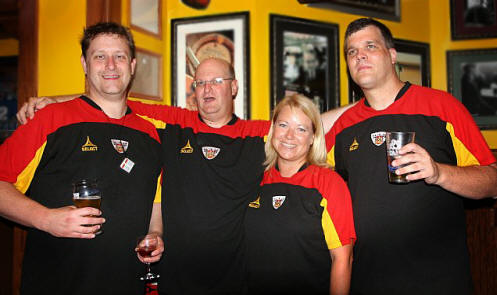 The Star United mellophone section members (l-r) Sean Conley, Scooter Pirtle, Angie Mefford, and Mike Chromik enjoy libations following the competition. Accused of "witchery" by some members of the audience, this smooth section negotiated a highly technical and exposed musical book with trademark Star of Indiana poise and passive aggresivity.

Very special thanks are extended to the following staff and consultants who offered their expertise in assisting the corps in the development of the Star United 2008 program (presented in alphabetical order):

Nick Angelis, Percussion Arranger
Nancy Brown, Operations
Wes Bullock, Visual Consultant
Sean Conley, President
Ed Cooning, IV, Brass and Visual Consultant
Bob Dubinski, Ensemble Consultant
Julie Gerhardt, Brass Consultant
Brad Green, Brass Consultant
Matt Harloff, Brass Consultant
Joey Keays, Yoga Consultant
Brent Montgomery, Percussion Consultant
Jim Prime, Jr., Arranger
Josh Talbott, Program Director and Composer/Arranger
Eric Sabach, Visual Consultant
Drew Schneider, Percussion Arranger
Amber Sears, Tour Coordinator
Donnie Van Doren, Spiritual Leader

Additional thanks are extended to the following people and institutions instrumental in the success of Star United:

Avon High School, Avon, Indiana
Bill Cook
Carmel High School, Carmel, Indiana
Chops Percussion
Drum Corps Associates
Evans Drum Heads
Pearl
Plainfield, High School, Plainfield, Indiana
Rudy the Bus Driver (Three cheers!)
Star Travel Services
Vic Firth
Victor High School, Victor, New York
Jeff and Sandy Wright
Interested in participating in the 2009 Star United? Contact us for info! (email). Also, veterans of the Star organization are encouraged to begin reconnecting with fellow alumni at the staralumni.org web site. An important announcement regarding 2010 will be coming soon. Start getting back into shape for a field show!
| | |
| --- | --- |
| | Interested in participating in an all-age group in your area? Check out Drum Corps Associates to find an organization near you! |
Additional Links
Click here for a partial video of Star United's Exhibition
performance at DCA Finals in Rochester, New York.
Fly! at a rehearsal at Knoerzer's back yard. Video by Kim Sommer.
Pie Jesu at a rehearsal at Knoerzer's back yard. Video by Kim Sommer.
Rocky Point Holiday performed at a rehearsal at Knoerzer's back yard. Video by Kim Sommer.
Section of Rocky Point Holiday performed at a rehearsal at Knoerzer's back yard.
Video by Melissa Frederick.
Portions of Minne Brass and Star United's competition performance.
Previous Yearly Recaps of Star United